Career
eCommerce Specialist in India: 10 Powerful Reasons to Pursue it as a Career
Everyone chooses to use an eCommerce platform when there is a pandemic, which has an impact on the global retail system. The retail internet sector has experienced significant expansion, which can be entirely attributed to the contemporary era's digitalization. Globally, 2.14 billion more people are expected to shop online in 2021, according to predictions.
Also, it is anticipated that in 2021, about 95% of the population will make an online purchase. Statistics make it very evident that internet commerce has a very promising future because more and more individuals are using this platform for their purchasing. The number of small firms investing in internet businesses has increased for this reason.
About 93.5% of all internet users have made purchases through eCommerce websites. Nine out of ten people have internet access, and nine out of ten have bought something online. As a result of the COVID-19 outbreak, there has been a sharp increase in online sales. Furthermore, it is predicted that by 2040, almost 95% of all procurements will be carried out online.
Everyone is fascinated by the booming e-commerce industry and wants to launch a career in it; if this describes you, you must read this article. You can specialize in e-commerce, and one of the most important considerations is the level of education that is required. You must first comprehend what being an eCommerce professional entails before making the decision. The people who will be in charge of putting the strategy into practice for the eCommerce firm are e-commerce specialists. In a moment, we'll go deeper into this concept.
Who is an eCommerce specialist?
An expert who prepares a company's online business strategy is known as an e-commerce specialist. These experts set out several professional criteria, including the most effective methods for producing and distributing material. They have a thorough understanding of pricing guidelines, media assets, and inventory in addition to search engine optimisation, or SEO. These specialists are well-versed in marketing tactics, product creation, and competitive and consumer research methodologies.
What Does An eCommerce Specialist Do?
eCommerce business owners are at a loss for how to optimize their online store's strategy to boost sales. In this case, eCommerce specialists use their expert knowledge to resolve all of their problems. E-commerce professionals have a formal education and a four-year degree in their field or a related one. An eCommerce expert personally oversees the eCommerce division. Digital marketing managers oversee eCommerce managers at large companies. The following are some of the top duties carried out by an eCommerce expert:
Use the website or app optimisation techniques to guarantee a seamless purchasing experience.
To boost the number of people using the online store, evaluate pertinent e-commerce marketing platforms.
Create successful e-commerce marketing campaigns within the budget allotted.
Work together to create and carry out offline campaigns with the offline marketing team.
To create a powerful brand presence, share thoughts and insights with the branding team.
To increase online sales, create sales relationships with outside marketplaces.
To plan, implement, and manage cross-selling and up-selling campaigns.
Keep an eye on consumer feedback and inquiries to glean insightful information.
Provide suggestions for alterations to advertising campaigns.
Evaluate reports on cancelled orders and collaborate with the supply chain team.
Assess market patterns and trends to support growth initiatives.
How to become an eCommerce specialist?
You can follow these steps if you want to learn how to become an expert in e-commerce:
1. Know what eCommerce is
The first thing you may do is educate yourself about e-commerce. Learn the principles of e-commerce and the various e-commerce marketing techniques. Consider enrolling in a course offered by an online or offline college to better understand e-commerce. Choose a course that emphasises the fundamentals of the topic before advancing gradually to the intermediate or expert level of such courses. When choosing the best course for you, keep the following in mind:
Make sure the course is taught by e-commerce marketers with relevant experience.
Find out if the course material is current and covers all facets of e-commerce.
Verify whether the institution providing the course issues certificates upon satisfactory completion.
2. Study Content Marketing
The creation of material for content marketing includes producing blog posts, articles, videos, and infographics. Find out the advantages of distributing material to the target market segment via various platforms. The purpose of content marketing is to draw customers to the online store to increase sales and create a solid foundation for the brand. A crucial component of e-commerce marketing is this marketing. E-commerce specialists can improve business outcomes by having strong content marketing skills. Although content marketing is covered in intermediate or advanced-level e-commerce courses, you can also choose to take a separate content marketing course.
3. Acquire knowledge of search engine optimisation
An online marketing tactic called search engine optimisation involves optimising websites to place higher in search engine results. For e-commerce organisations, SEO is an essential marketing tactic because it lowers their customer acquisition costs.
An individual must use SEO strategies to produce organic search results that place her website at the top of search results to become an SEO professional. By managing additional experience and projects to drive visitors to the website, one can become an SEO professional. For the eCommerce site to function better overall, learning SEO is crucial.
An effective SEO strategy enables the online store to be visible to a larger audience and allows the business to attract more customers. E-commerce businesses either have in-house SEO teams or may partner with external SEO agencies. There are many online SEO courses you may sign up for to learn more about it.
4. Learn about Pay-Per-Click Strategies.
A type of sponsored promotion that aids in increasing website traffic is pay-per-click marketing. The website is compelled to pay the publisher a specific amount of money each time a visitor clicks on an advertisement on a search engine. PPC boosts website traffic, which boosts online purchases.
Because of Google Ads, Amazon Advertising, and Microsoft Advertising, pay-per-click advertising is usually associated with search engines (formerly Bing Ads). Right now, several social networks, including Facebook, Linkedin, Pinterest, and Twitter, use pay-per-click advertising techniques.
It is essential to comprehend how this marketing strategy works. The Google Merchant Center beginner's guide can help you learn more about sponsored advertising. Also, there are a ton of free ways to advertise the services offered on the website.
5. Examine eCommerce platforms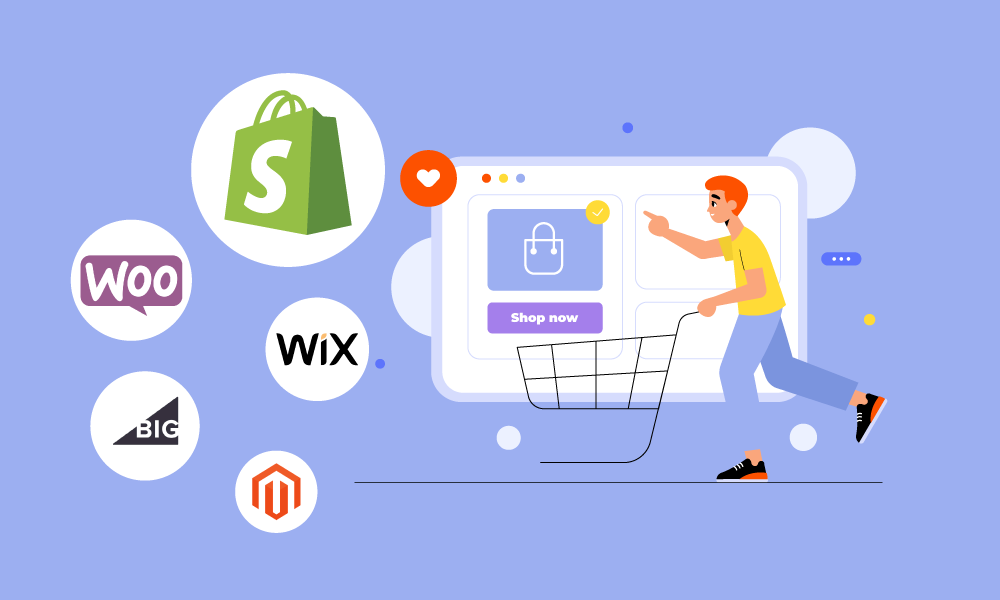 Businesses can construct and set up their online storefronts using e-commerce platforms as the framework. For an e-commerce specialist to improve operations and address operational bottlenecks, knowledge of e-commerce platforms is essential. Businesses frequently demand that candidates for e-commerce specialist positions have an extensive understanding of e-commerce platforms. Numerous well-known platforms provide learning solutions, sometimes gratis, if you want to discover more about them.
6. Acquire Expertise in E-mail Marketing
Businesses utilise email marketing as a beneficial e-commerce marketing method to expand their consumer base efficiently. Effective e-commerce professionals use email marketing to boost product sales. Email marketing campaigns can be used to tell current and potential customers about sales events, as well as about brand-new goods and services. Also, email marketing enables companies to create a devoted clientele.
To be good at growing business through emails, you must have a standard combination of administrative and creative abilities. Segments should be developed based on criteria like age, locality, content preferences, purchasing history, and many other factors before sending emails to everyone.
7. Discover Avenues to Gain Hands-on Experience
Find ways to put the lessons into practice after taking the previously specified steps. Practical experience enables you to put academic knowledge to the test and teaches you real-world strategy. You can choose the following options to obtain practical e-commerce experience:
Apply for an internship or a position at the entry-level. Working with an organization's internal e-commerce team is made possible by pursuing these options. You might get paid for an internship, and you could use that money to enrol in premium-paid courses to advance your education.
Choose an independent e-commerce project. You have the choice to work on an e-commerce project alone, rather than with a business. You can apply the majority of your academic knowledge and get significant professional experience by taking on a variety of tasks.
What Qualifications Are Needed To Become an eCommerce Expert?
eCommerce specialists need a variety of talents and academic credentials to perform better. When discussing the CV talents of eCommerce specialists, we see that 13.5% of them have a/b, 9.3% feature sales goals, and 8.0% have YouTube expertise. Check out some of the top skills we've highlighted below.
1. Competitor Research
As a specialist in eCommerce, you must identify your competitors and evaluate their business strategies to determine their benefits and drawbacks. It helps businesses spot market threats and opportunities rapidly. This skill helps you develop a business plan that will help your website stand out from the crowd.
2. Problem-solving skills
Finding problems and taking proper action to effectively solve them are both components of problem-solving. Regularly, e-commerce experts address issues with the website or app's optimization, marketing collateral design, advertising laws, and human resources. These specialists can identify opportunities to raise online sales and earnings because of their quick thinking and ability to implement precise solutions. These experts can keep clients happy by anticipating challenging situations and developing solutions for them. They may continue to be effective and current by keeping up with the most recent e-commerce trends and best practices.
3. Deals and Marketing Data
It is necessary to consult an expert in e-commerce to learn about customer purchasing processes. Having a solid grasp of marketing concepts is crucial for putting a successful marketing plan into practice. Before developing a marketing plan, customer needs must be taken into account. You'll need to have a solid understanding of how to sell your goods and maybe make money.
4. Paid Advertising (PPC Ads)
Aside from pay-per-click advertising on other websites, your website needs SEO content. You must make sure the website participates in paid advertising networks like Google AdWords to a reasonable extent as an eCommerce specialist. Visitors will be directed to the website to encourage purchases.
5. Communication
To establish trusting relationships with clients, experts should improve their communication skills. They need to understand the strategies that will help an eCommerce site and include customers in a marketing campaign.
6. Copywriting Abilities
Copywriting is the art of creating engaging product descriptions for websites that will draw consumers in. Since SEO writers are experts in this field, they can provide you with a new point of view using various writing techniques. If an SEO writer has the necessary skills and an awareness of how to write coherently for eCommerce, you may hire or contract them.
7. Technical Proficiency
Technical knowledge encompasses the professional understanding of technical roles in IT needed to complete a task. technical skills required to operate speciality software or maintain finely tuned gear and tools.
8. Critical Thinking
Reasoning, problem-solving, and evaluating are all critical thinking skills. Data should be used by an eCommerce expert to explore potential eCommerce strategies. They are unable to conclude about generally held views without applying critical thinking.
9. Skills in Website Optimization
To maximise website traffic, it is crucial to keep your site at the top of search engine rankings. Several websites utilise on-page and off-page SEO tactics to raise their ranking. It is feasible to use content marketing. As no online business can survive without it, SEO content is crucial. The amount of visits to an online site increases as a result of SEO content showing up in the web crawlers' often updated index listings.
10. Knowledge of Conveyance Systems
An eCommerce site must examine these things to assure the site owner that goods and services can be delivered to customers quickly and affordably. The improvement of understanding of each point in the distribution system is the main objective of the eCommerce sector.
11. Merchandising
The task of supporting the sale of goods, notably by their display in retail online stores, falls under the purview of an e-commerce professional. Merchandising refers to the creative display of goods that are intended for sale to attract customers.
12. Analysis Capabilities
Through evaluating web data, people should be able to visualize both difficult and simple challenges and develop a strategy. Developing and testing solutions are further aspects of analytical ability, and one should be able to formulate plans properly. Website traffic and sales will grow if the expert person uses this knowledge in business. With data research on demographics, cultures, and analytics, people should be able to identify the needs of clients.
Industrial Responsibilities of an eCommerce Specialist
Produce and revise product content for e-commerce websites and portals.
To offer updated material that will be published across e-Commerce platforms, closely collaborate with various teams (product management, graphics, sales).
Assist in additional areas such as paid social media, email marketing, PPC, SEO, and other media marketing techniques.
Become an authority on the specified product categories.
Determine inventory, pre-orders, and price policy SEO best practices.
Web analytics with Excel spreadsheets (with pivot tables, lookups, etc.) can be used to keep track of changes in product sales while remaining organised.
ability to balance attention to detail with the ability to multitask and achieve deadlines.
Conclusion
You must put in your best effort if you want to become an eCommerce expert. Each phase is a protracted learning process that involves trial and error and will help you gain experience. Take advantage of new opportunities and experiment without fear.
When you're feeling down, remind yourself of all the benefits you'll receive in return for your effort. To succeed in this industry, you must now go headfirst into eCommerce.