Career
Revolutionizing User Experience: Exploring the Power of UI/UX Designing as a Dynamic Career Choice in India
Have you ever had a bad encounter using a website or app that left you perplexed and frustrated? You needed assistance locating the data you were seeking or deciphering the challenging steps necessary to complete a task. Sadly, you're not the only one who can identify with this circumstance.
Modern digital settings frequently have subpar user experience design, but what if you could help find a solution? Are you passionate about designing simple and seamless user experiences? Do you find the idea of applying your skills to improve human-technology interaction intriguing? It might fascinate you if that's the case.
The road to success as a UI/UX designer may appear difficult and protracted. Do not let this discourage you, though; there are many tools and skills to master in this field, which is always evolving. Anyone who has the right training and the desire to learn can become a UI or UX designer. We will go into more detail about the initial steps you may take to establish yourself as a UI or UX designer in this piece.
Then, we will offer sound guidance to assist you in achieving your objectives, covering everything from honing your skills to forming connections with other professionals. Read more about the processes necessary to become a UI/UX designer whether you are a novice or seeking to advance your profession.
What is UI/UX design?
The process of establishing a platform to ensure customer usability and accessibility is known as user experience (UX) design. It alludes to researching how something works and how users interact with it. By in-depth investigation and testing, the demands and experiences of the clients are evaluated. It focuses on making sure the user can navigate the website or app satisfactorily and without hassle. User interface (UI) design is the process of creating a platform that is visually appealing to potential customers.
These designs are created based on the frameworks offered by UX design. It emphasises using and integrating various colours, fonts, buttons, images, and animation in the design of a website or mobile app. Together, UX and UI design attempts to create a platform that users will find appealing and simple to use. Both of these designs could have been made by one person, several people, or a group of people.
User experience, on the other hand, is abbreviated as UX. The secret is to thoroughly map out the customer journey and base your product development on it. Accessibility throughout the client's lifetime is highly valued in UX design.
Who is a UI/UX Designer?
UI/UX designers build their products on the foundation of design thinking, a user-centred problem-solving method. It speeds up a never-ending loop of accuracy checks, verifications, and tests. The primary responsibilities and tasks of a UX designer vary according to their level of seniority, the size of their organisation, and the particulars of their employment. As a UI/UX designer, you must ensure that the application you create is easy to comprehend, simple to use, and offers the best possible information.
Working as a UI/UX designer gives you the best of both worlds because you're in the heart of the IT sector and get to interact with people in meaningful ways. Businesses are now centred around the client and heavily rely on UI/UX Design principles. Due to the explicit client expectations and product curation, these have recently been of enormous assistance.
UX is comparable to the way a car drives, shifts gears, or shields you from harm in a collision, but UI is equivalent to the colour and style of the car. By outlining a logical path from one action to the next, a UX designer makes sure that a product makes sense to the user. According to UI design, each page appealingly presents such a vacation.
UX designers divide their time between carefully wireframing a system on some days and bringing it to life with an appealing colour scheme, a sense of depth, and a hint of interaction on other days. To define interaction models, design wireframes, build prototypes, and work on brand colour, designers research their target audience. They also carry out user testing, analyse data, and gather input from focus groups to make the required changes to improve the product.
What does a UI/UX Designer do?
Use user manuals, branding, customer analysis, design research, and branding to the product's appearance and feel.
Consider the product or service's interactivity and responsiveness by prototyping, implementing animations, and adjusting to the screen sizes of all devices.
User Researcher
Content Strategist
Usability Tester
Prototyping
Wireframe Expert
Information Architecture
Iteration
What is the scope of a UI/UX Designer in India?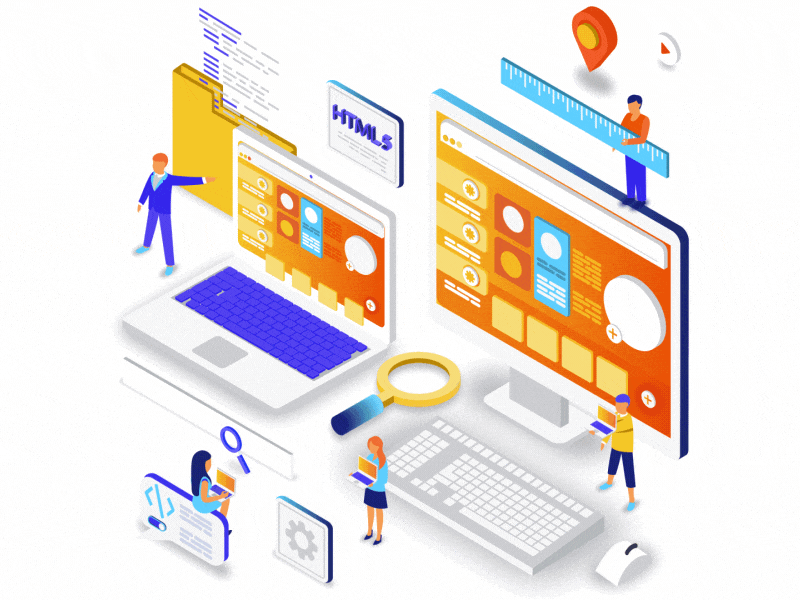 User experience (UX) has grown in importance as a sustainability indicator for products and services in the modern digital age. UI and UX designers are in high demand as a result. What does this mean for those who are thinking about a career in UI or UX design? Does it make sense to work in this field? The answer is unquestionable yes! Recent studies indicate a rising demand for UI and UX designers; according to a LinkedIn study, this field will rank among the top ten most sought-after skills in 2023. According to the same survey, demand for UI and UX designers increased by 20% in the previous year.
According to Research and Markets Inc.'s analysis, the demand for UX design services will rise globally between 2020 and 2025 at a CAGR of 16.1%. Its growth is mostly due to the increasing importance of digital goods, the widespread use of web-based and mobile applications, and the need for companies to stand out in a crowded market. This is a skill-driven industry with a wide range of duties and potential career paths.
You have a fascinating professional option waiting for you, but have you been considering it lately and wondering how it will pan out? There are many companies in the market, and they are all striving to be the best to survive in this cutthroat environment.
Why should students consider UI or UX design as a career? It starts by offering fantastic job possibilities. According to Glassdoor, the national average salary for a UX design expert in India is 6 LPA. Second, because it encourages creativity and problem-solving skills, UI/UX design is a rewarding career option for persons who are passionate about design and technology. A profession that encourages lifelong learning and development is UI and UX design.
As technology advances, there will always be a demand for designers who can create digital products that meet consumer needs. This suggests that UI and UX designers can look forward to a fruitful, protracted career that will enable them to work on a variety of products and projects. So, we can see that the future is full of opportunity for anyone with the necessary vigour, imagination, and attention to detail.
Is UI/UX design a good career?
You might be wondering what UI/UX design is and whether it's a worthwhile job. It ultimately comes down to creating digital products that are user-friendly, intuitive, and pleasurable. Is UI/UX design a vocation that has a bright future? Indeed, it is the answer. There has never been a better time to be a UI/UX designer than now, with technology on the rise and digital products becoming more and more important. Excellent job prospects, chances for development and learning, and the chance to work on interesting and cutting-edge projects are all offered by this sector.
One of its best characteristics is how creativity and problem-solving abilities are valued in UI and UX design. You will be in charge of creating aesthetically pleasing and technically sound virtual items that exceed customer expectations as a UI/UX designer. This implies that you frequently must come up with novel answers to difficulties, which may be satisfying. In UI and UX design, there are many options for personal development and education.
Designers who can anticipate consumer requirements and translate them into digital products will always be in demand. You can collaborate on a variety of projects and services, including online games, websites, and mobile apps. UI and UX design is one of the top ten in-demand skills for 2021, according to a LinkedIn report. This is good news for anyone looking for employment in the user interface and user experience (UI/UX) fields.
Also read 12 High-Demand Cybersecurity Jobs in India Reasons to Pursue a Secure Future
Is UI/UX design hard to learn?
Learning UX design can occasionally be very time-consuming. Nonetheless, how challenging you find studying UX design can frequently rely on whether you have prior design or development experience or none at all. You will undoubtedly discover that the UX industry recognises your ability to make things look nice and your familiarity with typography, colour, illustration, and images as someone with a background in design. You need assistance, though, to understand the more complex elements of UX design. Also, you might need to stretch yourself in new directions if you want to add research, testing, and perhaps coding to your skill set.
If you have programming experience, learning UX will probably just push you a small amount outside of your comfort zone. Perhaps the greatest advantage of learning about UX is how it inevitably broadens your experience as a Designer. Web design is still a significant component of the profession, even if UX design applies to much more platforms than simply browsers. 74% of UX designers who replied are producing content for the web, according to the Digital Skills Study by BrainStation. Learning to think like a UX designer requires a programmer to view issues from a wider angle.
The user experience, for instance, incorporates each time a customer interacts with a product. Even while many web developers have likely participated in the prototype, testing, and design phases of their products, it may be beneficial to comprehend the more challenging iterative UX design process.
UX designers must balance a variety of elements, including visual design, user research, content strategy, usability and accessibility, information architecture, and overall business goals. They must also be adept at project management and presenting findings to a variety of stakeholders. Some of these skills may be more difficult to master than others, but if you master one, you will eventually master the others. Knowing more about the goods they were creating and how people were using them would benefit any web developer.
Institutes That Offer Related Courses
· National Institute of Design (NID), Ahmedabad & Bengaluru
· National Institute of Fashion Technology (NIFT), multiple locations
· GD Goenka University, Haryana
· Pearl Academy, multiple locations
· Indian Institute of Technology, Guwahati
· Amity School of Fine Arts, Noida
· Srishti School of Art Design and Technology, Bengaluru
· Banaras Hindu University, Varanasi
· MAEER'S MIT Institute of Design, Pune
· Indian School of Design and Innovation (ISDI), Mumbai
Different Types of Job roles / Career Prospects
· User Researcher
· Product Designer
· Visual Designer (UI Designer)
· UX Design Manager
· Wireframe Expert
· UX/UI Developer (Involves coding like HTML, CSS, Javascript, etc.)
· ContentStrategist
· Interaction Designer
· Usability Tester
· Information Architecture (UX Designer)

Study Tools to Become a Successful UI/UX Designer
The secret to creating beautiful designs is to become skilled with specific instruments. Get a firmer grasp on the platforms and tools that are essential for finding work, such as LinkedIn and HeadHunter, and gain a better understanding of the UI/UX abilities that companies are seeking.
Sime excellent tools that is necessary to master are:
Sketch: Using this vector-based tool, you may resize practically anything without losing the clarity of your finished work. This is a fantastic wireframe and professional tool.
Figma: The in-browser interface is supported for the first time by this tool. This all-in-one tool for prototyping, designing, and obtaining feedback is strong, helpful for editing tools, and has many convenient features. You can reuse various pieces throughout your designs with the help of Figma's limitations function, which automatically adapts to your designs when the screen changes. Isn't it a fantastic tool?
Adobe XD: If you are already familiar with the Adobe Creative Cloud Suite, you might feel right at home. This is a flexible tool with excellent capabilities for designing, prototyping, sharing, and teamwork. This nascent vector-based tool excels at designing and prototyping user interfaces for voice, web, and mobile applications.
Technical and Soft Skills that UI/UX Designers Should Possess
Technical Skills
Students who are adept at practical skills also have a solid understanding of the knowledge needed to complete a task successfully. This may involve becoming familiar with user experience (UX) software, such as Adobe Creative Suite. These five crucial skills can be developed by UX design professionals.
Visual Language
As the design is illustrated, UX designers need to be fluent in the visual language. Understanding concepts like these are a must-have:
Design Theory
Icons Layout
Colour
Typography
Yet, a UX designer must possess skills beyond those of a regular designer. Soft skills are equally essential for the success of UX professionals. Students who are adept at practical skills also have a solid understanding of the knowledge needed to complete a task successfully. This may involve becoming familiar with user experience (UX) software, such as Adobe Creative Suite. These five crucial skills can be developed by UX design professionals.
Prototyping
Designers can test the usability of their designs using prototypes, which are useful tools. Before creating the finished product, they assist designers in making sure a system and its users are a good fit. Before a website goes online, prototypes let designers test how visitors interact with it. As issues are identified, the UX designer may go through several iterations before arriving at a design that meets business and user objectives. UX designers should therefore be adept at rapid prototyping.
Research
UX designers need to have a solid understanding of the demands and viewpoints of their users to do their work successfully. This requires the ability to conceptualise, carry out, and assess numerous research approaches, according to UX Matters. Analytical research skills and user testing are essential.
Wireframing
A wireframe is a blueprint for each interface screen. Its main goal is to demonstrate how something functions rather than how it seems. The components that must be included on each page are described in wireframing. It includes all the interface elements required for all probable interactions and is frequently created in grayscale with boxes and lines.
Interpersonal Skills for UI and UX Designers
The focus of UI and UX design is on people. It shouldn't be a surprise that employers value soft skills in candidates as a result.
Communication
The marketing and production teams, customers, and designers must communicate with UI and UX designers. To do enough research and effectively communicate their findings to stakeholders, they must possess great communication skills. Designers of user interfaces and user experiences (UI and UX) frequently invest a lot of time speaking out for their users, doing research, and presenting their findings. UI and UX designers need to be persuasive writers and effective communicators.
Information Architecture
Data that is easy to understand is organised using information architecture. Information architecture may be useful for printed materials, physical venues, applications, software, websites, and more. It's possible to integrate labelling, navigation, and search systems.
Curiosity
The goals and problems of their users must be understood by UI and UX designers. The psychology of people must be their obsession with UI and UX designers. Curious UI and UX designers are always looking for new, cutting-edge ways to delve deeper and uncover more complex insights.
Flexibility
Designers of user interfaces (UI) and user experiences (UX) should put scientific research ahead of their own biases. They must be willing to accept corrections and ask detailed inquiries. Most importantly, they must be flexible enough to meet the constantly shifting demands of the market.
Empathy
Designers of user interfaces (UI) and user experiences (UX) must put themselves in the position of their target audience. It takes perseverance to overcome obstacles, biases, and prejudices by UI and UX designers. This suggests that you will accept the findings despite any objections long after the investigation is finished. Being the user's advocate at every stage of the process—from design to implementation to production—is the aim.
Conclusion
In conclusion, the thriving and exciting field of UI/UX design offers a lot of room for expansion. UI/UX design is one of the most in-demand and promising careers worldwide since it has developed into a critical commercial component as digital goods and technology have advanced. According to the statistics, UI/UX designers are in great demand, have outstanding work prospects, and receive competitive pay.
Also, this industry provides many opportunities for growth and learning, making it a fantastic career choice for anyone with an interest in technology and design. The importance of UI/UX design will increase over time, prompting a growing demand for qualified designers. Hence, if you've ever considered a career in UI/UX design, now is the ideal time to get in and take advantage of the numerous opportunities this sector has to offer.